Welcome to Episode #64 of the Fight for a Happy Life podcast. This episode is a wisdom-packed conversation with martial artist Ritchie Yip.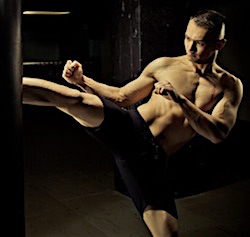 Ritchie is the founder and head instructor of InFighting Training Centers based in Vancouver, BC. He also has a growing YouTube channel loaded with helpful content on fitness, kickboxing, and Brazilian Jiu Jitsu. The links…
InFighting Training Centers
Ritchie's YouTube Channel
Ritchie is also famous for appearing in countless videos on the Grapplearts and Self-Defense Tutorials websites, hosted by Stephan Kesting.
Did you listen to my interview with Stephan? If not, you can find that right here—
FHL #62: Interview with Stephan Kesting
In today's interview, Ritchie talks about—
The joy of learning
The power of pride
Building a business
The key obstacle to success
Managing burnout and injuries
Dealing with haters
Ritchie also discusses what might be his crowning achievement, the ultimate video Kickboxing Course, which will soon be available on the Self Defense Tutorials website. For more info, be sure to follow—
Okay! On with the show. I hope you enjoy it as much as I did!
To LISTEN to the interview with Ritchie Yip, you can either:
Play the show below. Or download to your device.
Subscribe on iTunes or Stitcher or Google Play Music or Spotify.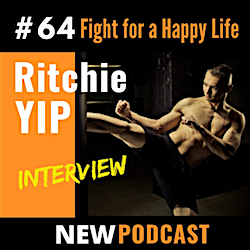 If you'd like to support the show, share this link with a friend or leave a quick review over on iTunes. Thank you!
Oh—and don't forget to sign up for free email updates so you can get new shows sent to your inbox the minute they're released.
Thanks for listening! Keep fighting for a happy life!

The post #64: Ritchie Yip Interview [Podcast] appeared first on Sensei Ando.
Read more: senseiando.com